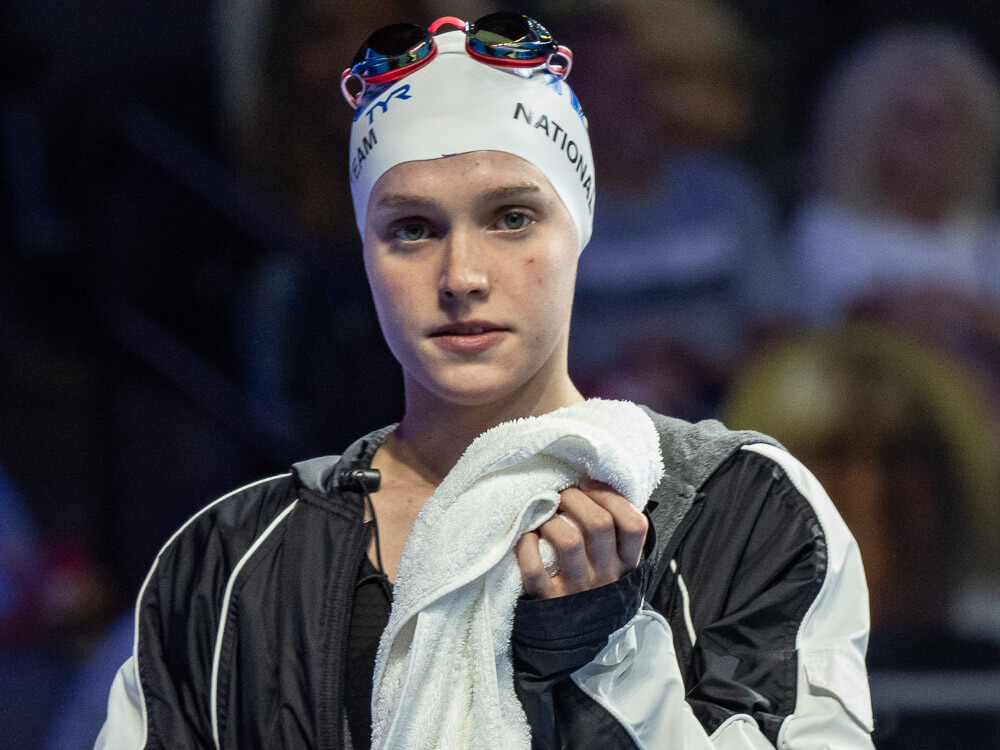 Teenage Star Claire Curzan Notches Awesome Double
TYR Pro Series: Teenage Star Claire Curzan Scores Impressive Double
Although he is only 17 years old, Claire Curzan has been a much-discussed talent for several years, with the Stanford rookie already possessing Olympian status. And on Friday night at the TYR Pro Series event in San Antonio, the TAC Titans star was superb in two events, earning victories in the 50-meter freestyle and 100-meter backstroke.
Already winner of the 100m butterfly on the second day, Curzan opened his double by dominating the peloton in the 50m freestyle. Fueled by a great start that saw her surface well ahead of the field, Curzan hit the wall with a season best time of 24.43, also good for a national age group record (17-18) , according to USA Swimming. This projection gave Curzan a decision of 0.38 on Erika Browntimed in 24.81.
About 15 minutes later, Curzan easily bettered a stacked field in the 100 backstroke, as she posted a best time of 58.73 in the 100 backstroke. Curzan was the only swimmer to break the minute mark, and her ability to drop below the 59 mark at this point in the season, and on such a short timeframe from the 50 freestyle, portends a big season ahead. Olympian Rhyan White was Curzan's runner-up, passing 1:00.05.
Curzan is expected to fight for World Championship places in Budapest in at least four events, with the 100m freestyle also on his schedule at this month's International Team Trials in Greensboro.
After his victory in the 200m freestyle on Thursday, Katie Ledecky added the free 400 track to their weekend collection. The seven-time Olympic champion covered her eight laps in 4:03.84, with Lea Smith turn in a solid swim of 4:05.43. Ledecky will be looking for some rest over the next few weeks that will allow her to drop below the four-minute mark again, an area she has visited more than any woman in the history of the sport.
Lilly King completed her breaststroke double by winning the 200m distance in 2:23.69, almost a second ahead of the German Anna Elendt (2:24.63), a star at the University of Texas. Also under 2:25 was Annie Lazorwho checked in at 2:24.95.
Tokyo Olympics bronze medalist Hali Glitter pulled away in the stretch to win the 200-meter butterfly ahead of Kelly Pash. In intense practice, Flickinger hit the wall in 2:08.47, with Pash clocking 2:09.21 for second place.
 Event 11  Women 200 LC Meter Butterfly
==================================================================
        World: W 2:01.81  10/21/2009Zige Liu, CHN
     American: A 2:04.14  7/30/2009 Mary Descenza, USA
    U.S. Open: O 2:05.85  6/17/2021 Hali Flickinger, Sun Devil-AZ
     Jr World: J 2:06.29  4/13/2017 Suzuka Hasegawa, JPN
     Pro Swim: P 2:06.11  3/5/2020  Hali Flickinger, Sun Devil Swimmi
         Pool:   2:07.59  8/9/2015  Hali Flickinger, Athens Bulldog S
    Name            Age Team              Prelims     Finals              
==================================================================
                        
                        === A - Final ===                         
 
  1 Hali Flickinger  27 Sun Devil Swimmi  2:11.15    2:08.47        
    r:+0.68  28.98      1:01.45 (32.47)
        1:34.86 (33.41)     2:08.47 (33.61)
  2 Kelly Pash       21 Univ of Texas-ST  2:11.95    2:09.21        
    r:+0.66  30.85      1:03.17 (32.32)
        1:36.54 (33.37)     2:09.21 (32.67)
  3 Lindsay Looney   20 Unattached-AZ     2:12.39    2:09.81        
    r:+0.67  29.15      1:01.97 (32.82)
        1:35.88 (33.91)     2:09.81 (33.93)
  4 Emma Sticklen    19 Univ of Texas-ST  2:11.35    2:09.98        
    r:+0.69  28.87      1:01.69 (32.82)
        1:35.31 (33.62)     2:09.98 (34.67)
  5 Dakota Luther    22 Unattached-GA     2:11.24    2:10.13        
    r:+0.69  29.37      1:02.04 (32.67)
        1:35.68 (33.64)     2:10.13 (34.45)
  6 Olivia Carter    21 Una MICH-MI       2:14.11    2:14.17        
    r:+0.60  30.33      1:04.00 (33.67)
        1:38.82 (34.82)     2:14.17 (35.35)
  7 Lockett Bowley   18 Blue Dolfins-FL   2:17.47    2:17.08        
    r:+0.65  30.23      1:04.17 (33.94)
        1:39.55 (35.38)     2:17.08 (37.53)
  8 Leah Gingrich    32 Columbus Aquatic  2:16.96    2:18.39        
    r:+0.76  30.19      1:05.05 (34.86)
        1:41.09 (36.04)     2:18.39 (37.30)


 Event 13  Women 50 LC Meter Freestyle
==================================================================
        World: W 23.67  7/29/2017 Sarah Sjostrom, SWE
     American: A 23.97  7/30/2017 Simone Manuel, USA
    U.S. Open: O 24.08  6/1/2019  Pernille Blume, DEN
     Jr World: J 24.33  9/15/2017 Rikako Ikee, JPN
     Pro Swim: P 24.17  2016      Sarah Sjostrom
         Pool:   24.71  8/8/2015  Madison Kennedy, SwimMAC Carolina
    Name            Age Team              Prelims     Finals              
==================================================================
                        
                        === A - Final ===                         
 
  1 Claire Curzan    17 TAC Titans-NC       25.04      24.43        
         r:+0.64                       
  2 Erika Brown      23 Tennessee Aquati    25.35      24.81        
         r:+0.70                       
  3 Mallory Comerfo  24 Cardinal Aquatic    25.45      25.11        
         r:+0.68                       
  4 *Kalia Antoniou  21 Univ Alabama Swi    25.81      25.25        
         r:+0.67                       
  5 Natalie Hinds    28 Una GSC-FL          25.39      25.29        
         r:+0.63                       
  6 *Diana Petkova   21 Univ Alabama Swi    25.93      25.56        
         r:+0.71                       
  7 Grace Cooper     19 Univ of Texas-ST    25.79      25.58        
         r:+0.72                       
  8 *Cherelle Thomp  29 Performance Aqua    25.89      25.66        
         r:+0.66
 Event 15  Women 100 LC Meter Backstroke
==================================================================
        World: W 57.45  6/13/2021 Kaylee McKeown, AUS
     American: A 57.57  7/28/2019 Regan Smith, USA
    U.S. Open: O 57.92  6/14/2021 Regan Smith, Riptide-MN
     Jr World: J 57.57  7/28/2019 Regan Smith, USA
     Pro Swim: P 58.18  3/7/2020  Regan Smith, Riptide-MN
         Pool:   59.58  8/7/2015  Claire Adams, Carmel Swim Club
    Name            Age Team              Prelims     Finals              
==================================================================
                         
                        === A - Final ===                         
 
  1 Claire Curzan    17 TAC Titans-NC     1:00.24      58.73        
    r:+0.55  29.05        58.73 (29.68)
  2 Rhyan White      22 Univ Alabama Swi  1:00.97    1:00.05        
    r:+0.56  29.44      1:00.05 (30.61)
  3 Olivia Smoliga   27 Una SUN-AZ        1:01.27    1:00.28        
    r:+0.60  29.65      1:00.28 (30.63)
  4 Phoebe Bacon     19 Una WA-WI         1:01.27    1:01.17        
    r:+0.70  30.03      1:01.17 (31.14)
  5 *Aviv Barzelay   19 Texas A & M Univ  1:02.05    1:01.61        
    r:+0.57  30.09      1:01.61 (31.52)
  6 Gabby DeLoof     26 Club Wolverine-M  1:01.85    1:02.11        
    r:+0.54  30.21      1:02.11 (31.90)
  7 Beata Nelson     23 Wisconsin Aquati  1:01.84    1:02.28        
    r:+0.60  30.63      1:02.28 (31.65)
  8 Olivia Bray      20 Univ of Texas-ST  1:02.24    1:02.49        
    r:+0.73  30.40      1:02.49 (32.09)


 Event 17  Women 200 LC Meter Breaststroke
==================================================================
        World: W 2:18.95  7/30/2021 Tatjana Schoenmaker, RSA
     American: A 2:19.59  8/2/2012  Rebecca Soni, USA Olympic Team
    U.S. Open: O 2:20.38  7/7/2009  Rebecca Soni, Trojan
     Jr World: J 2:19.64  8/30/2015 Viktoria Gunes, TUR
     Pro Swim: P 2:20.77  5/19/2019 Annie Lazor, Mission Viejo Na
         Pool:   2:23.54  8/10/2015 Laura Sogar, Bluefish Swim Cl
    Name            Age Team              Prelims     Finals              
==================================================================
                        
                        === A - Final ===                         
 
  1 Lilly King       25 Indiana Swim Clu  2:27.68    2:23.69        
    r:+0.69  32.38      1:09.05 (36.67)
        1:47.10 (38.05)     2:23.69 (36.59)
  2 *Anna Elendt     20 Univ of Texas-ST  2:25.98    2:24.63        
    r:+0.76  33.07      1:09.72 (36.65)
        1:47.05 (37.33)     2:24.63 (37.58)
  3 Annie Lazor      27 Indiana Swim Clu  2:31.13    2:24.95        
    r:+0.69  33.12      1:09.88 (36.76)
        1:47.31 (37.43)     2:24.95 (37.64)
  4 Mackenzie Looze  22 Indiana Universi  2:32.72    2:31.12        
    r:+0.67  35.55      1:12.78 (37.23)
        1:52.97 (40.19)     2:31.12 (38.15)
  5 Noelle Peplowsk  21 Indiana Universi  2:34.90    2:31.57        
    r:+0.72  34.23      1:12.47 (38.24)
        1:51.37 (38.90)     2:31.57 (40.20)
  6 *Mona McSharry   21 Univ Tennessee-S  2:34.50    2:31.81        
    r:+0.66  34.41      1:11.77 (37.36)
        1:50.75 (38.98)     2:31.81 (41.06)
  7 *Brearna Crawfo  19 Indiana Universi  2:33.93    2:32.92        
    r:+0.69  33.94      1:12.93 (38.99)
        1:52.88 (39.95)     2:32.92 (40.04)
  8 *Leah Polonsky   19 Unattached-PC     2:34.51    2:33.92        
    r:+0.66  34.33      1:13.59 (39.26)
        1:53.26 (39.67)     2:33.92 (40.66)
 Event 19  Women 400 LC Meter Freestyle
==================================================================
        World: W 3:56.46  8/7/2016  Katie Ledecky, USA
     American: A 3:56.46  8/7/2016  Katie Ledecky, USA
    U.S. Open: O 3:57.94  5/17/2018 Katie Ledecky, Stanford
     Jr World: J 3:58.37  8/23/2014 Katie Ledecky, USA
     Pro Swim: P 3:57.94  5/17/2018 Katie Ledecky, Stanford Swimmin
         Pool:   4:04.01  4/1/2022  Katie Ledecky, Una GSC-FL
    Name            Age Team              Prelims     Finals              
==================================================================
                         
                        === A - Final ===                         
 
  1 Katie Ledecky    25 Una GSC-FL        4:04.01    4:03.84        
    r:+0.66  28.12        58.10 (29.98)
        1:28.72 (30.62)     1:59.21 (30.49)
        2:30.23 (31.02)     3:01.51 (31.28)
        3:33.00 (31.49)     4:03.84 (30.84)
  2 Leah Smith       26 Longhorn Aquatic  4:08.46    4:05.43        
    r:+0.74  28.83        59.35 (30.52)
        1:30.22 (30.87)     2:01.20 (30.98)
        2:32.54 (31.34)     3:03.66 (31.12)
        3:34.98 (31.32)     4:05.43 (30.45)
  3 Hali Flickinger  27 Sun Devil Swimmi  4:13.71    4:10.38        
    r:+0.72  29.21      1:00.49 (31.28)
        1:32.17 (31.68)     2:04.00 (31.83)
        2:36.03 (32.03)     3:07.79 (31.76)
        3:39.77 (31.98)     4:10.38 (30.61)
  4 Jillian Cox      16 Longhorn Aquatic  4:16.79    4:12.93        
    r:+0.60  29.41      1:01.01 (31.60)
        1:33.02 (32.01)     2:04.95 (31.93)
        2:37.09 (32.14)     3:09.36 (32.27)
        3:41.57 (32.21)     4:12.93 (31.36)
  5 *Yara Hierath    20 NC State Univers  4:20.80    4:17.50        
    r:+0.71  30.19      1:02.04 (31.85)
        1:34.38 (32.34)     2:06.88 (32.50)
        2:39.67 (32.79)     3:12.66 (32.99)
        3:45.67 (33.01)     4:17.50 (31.83)
  6 Sierra Schmidt   23 Scottsdale Aquat  4:15.67    4:19.95        
    r:+0.71  29.54      1:01.04 (31.50)
        1:33.48 (32.44)     2:06.10 (32.62)
        2:39.22 (33.12)     3:12.51 (33.29)
        3:46.64 (34.13)     4:19.95 (33.31)
  7 Adrianna Cera    20 Univ Miami Hurri  4:24.91    4:22.69        
    r:+0.71  30.30      1:02.48 (32.18)
        1:35.43 (32.95)     2:08.38 (32.95)
        2:41.73 (33.35)     3:15.72 (33.99)
        3:49.85 (34.13)     4:22.69 (32.84)
  8 Ella Ristic      19 Indiana Universi  4:21.54    4:23.31        
    r:+0.69  29.67      1:01.78 (32.11)
        1:34.67 (32.89)     2:08.25 (33.58)
        2:42.27 (34.02)     3:16.21 (33.94)
        3:50.73 (34.52)     4:23.31 (32.58)