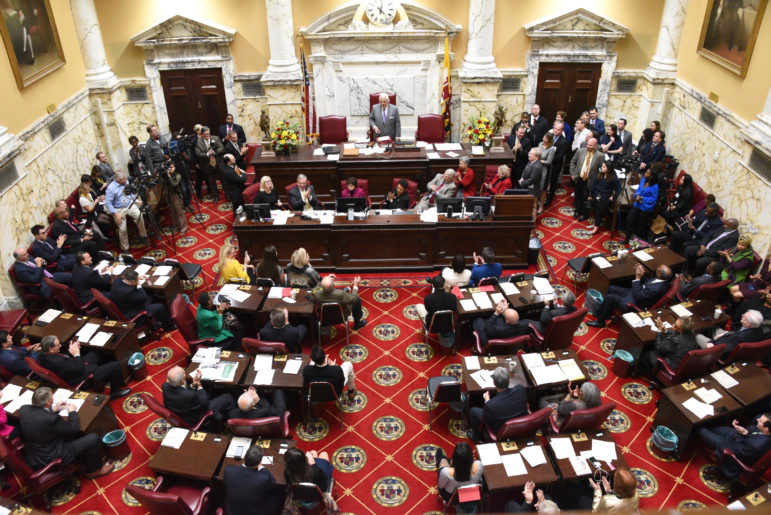 State Roundup: candidates have more time to submit their application; in-person Statehouse sessions begin but over 100 groups want video testimony to continue; Hogan rules out the Senate, but not the White House
THE COURT EXTENDS THE DEADLINE FOR FILING CANDIDATES: The Maryland Court of Appeals on Friday extended the deadline for filing candidates for Maryland's 2022 primary campaign by a month after multiple petitions were filed against the state's new legislative districts earlier this week. . Bennett Leckrone/Maryland Matters.
The new deadline is March 22 for anyone wishing to run for one of the many vacancies this year, from local county councils to governor. Pamela Wood/The Baltimore Sun.
BACK TO IN-PERSON SESSIONS AT STATEHOUSE: After five weeks of virtual hearings and a limited number of floor sessions — particularly in the House, which has met in full only three times since the session opened on January 12 — the legislature is getting closer to semblance of normality, two years after the COVID-19 pandemic abruptly ended the 2020 session. Effective immediately, all Senate committee hearings will be held in person and the full Senate will have sittings on the ground almost every day. House hearings will remain online, but the full House will begin holding regular ground sessions this week. Josh Kurtz and Danielle Gaines/Maryland Matters.
OVER 100 GROUPS CALL ON SENATE TO CONTINUE VIDEO TESTIMONY: More than 100 Maryland organizations have called on the state Senate to continue live video testimony during committee hearings after the chamber leadership announced it would end the option on Monday when the Senate returns to the courts. in-person meetings. Stephen Neukam and EA Breeden/Capital News Service in the Maryland Reporter.

OPTIMISTIC TRANSIT OFFICIALS ON THE PURPLE LINE: Maryland's top transportation officials have expressed optimism that when work on the Purple Line resumes this spring, the project can avoid a repeat of the problems that have caused major construction delays and cost overruns. Bruce DePuyt/Maryland Matters.
LAWS HOPE TO LIMIT USE OF TEMPORARY MESSAGE APP: Several Maryland Democratic lawmakers have introduced a bill to limit Gov. Larry Hogan's (R) use of messages that self-destruct in 24 hours, or at least bring them to more light. They say it was sparked by recent revelations about the governor's use of the Wickr app to communicate about a range of public issues with top aides and other state employees. Steve Thompson/The Washington Post.
UMBC RANKS AMONG TOP RESEARCH SCHOOLS: The University of Maryland in Baltimore County has joined the highest ranks of research universities in the nation, a milestone for the young school renowned for producing scientists and engineers of color. The 55-year-old university in suburban Baltimore has achieved Research 1, or R1, status, a distinction for universities with very high research activity. Lauren Lumpkin/The Washington Post.
MARYLAND'S VALENTINE'S DAY POWER COUPLES: It is often said that power is an aphrodisiac. We'll leave it up to those with real power to tell us if that's true. Without further ado, Maryland Matters presents its list of Maryland's political power couples, 2022 edition, in alphabetical order. Staff/Maryland Matters.
IS HOGAN WATCHING THE PRESIDENCY? Gov. Larry Hogan has already made some of the classic moves towards a run for president, noted Mileah Kromer, director of the Sarah T. Hughes Center for Politics at Goucher College. Hogan released a political memoir in 2020 and is a regular guest on the network's Sunday talk shows. Bryn Stole/The Baltimore Sun.
During a one-on-one interview on CNN with Jake Tapper, the governor said he was flattered by the encouragement to run, but never wanted to be a U.S. senator. After mentioning his most recent video, posted by the governor's nonprofit advocacy group, Hogan says a presidential race for 2024 isn't completely out of sight. Nia Fitzhugh/WBFF-TV.
NOTICE: A DEMOCRATIC RESPONSE EXPECTED: In an article by Bennett Leckrone for Maryland Matters, we find Republican efforts to amend a bill, SB163, that would give Marylanders a second chance to sign an absentee ballot oath, required for their vote to be counted. on all mail -in ballots in the state of Maryland, failed. This should come as no surprise to the electorate who expect this kind of response from the Democratic majority in the state legislature. Marc King/journalist from Maryland.
PERSISTENT COVID CONTINUES TO CONFUSE DOCTORS: In the nearly two years since the start of the Covid-19 pandemic, there is no specific treatment or even diagnosis for the many people with long-term Covid and persistent or new symptoms. after an infection. The affliction continues to confound the medical establishment. The long-haulers are men and women of all ages who had all levels of COVID severity. Meredith Cohn/The Baltimore Sun.
'THIN BLUE LINE' FLAG IN FRONT OF THE HIGH COURT: The Maryland District Court will consider whether a defendant's right to an impartial jury is inherently violated by the presence in the courtroom of a bailiff wearing a face mask emblazoned with the pro-police "thin blue line" flag. during the trial. Steve Lash / The Daily Record.
BA CO COUNCIL WANTS OYSTER RELIES REEF TO BE PROTECTED: Baltimore County Council is strongly backing state legislation that would protect the old Man O'War shoals in the Patapsco River — the last great relict oyster reef in the Upper Bay — and extinguish the dredging effort. Meanwhile, oyster farmers have begun pushing for separate legislation that could allow the state to collect tens of millions of bushels from more than two dozen other oyster reefs so that the shell can be used to replenish stocks. harvest areas around the bay. Taylor DeVille/The Baltimore Sun.
BA CO SCHOOL BOARD MEMBER RESIGNS TO RUN FOR STATEHOUSE: Baltimore County School Board member Cheryl Pasteur resigned last week after announcing her candidacy for a seat in the Maryland General Assembly. Pasteur, who was elected to the 12-person board in 2018, plans to run for a seat in the House of Delegates as a Democrat in District 11A. Lillian Reed/The Baltimore Sun.
NOTICE: COX AVOIDS ANSWERING QUESTIONS: In a tasteless demonstration of the contestant and his lemmings, Del. Dan Cox dodged questions from the public about his support for the Republican gubernatorial candidate at a meeting in Frederick last week. Brian Griffiths/The Duck Pin.
3 MARYLAND DELEGATES JOIN CALL FOR 50-STATE ELECTORAL AUDIT: Three Maryland Republicans are among the small group of lawmakers nationwide calling for a "fifty-state audit": Dels. Dan Cox, Mark Fisher and Jeff Ghrist are among a group of 204 lawmakers nationwide who have joined Arizona Sen. Wendy Rogers' crusade against the 2020 election. Brian Griffiths/The Duck Pin.
HIGH COURT TO HEAR PG REDISTRICTIONS CASE: Maryland's highest court has agreed to hear an appeal filed by Prince George's County Council in a controversial local redistricting case. The order, issued Friday evening, came in response to a ruling by a Prince George's County Circuit Court judge late last month. Bruce DePuyt/Maryland Matters.
LIBRARY RENAME WANTED TO HONOR TUSKEGEE AVIATOR: Montgomery County Councilman Will Jawando wants to rename Silver Spring Library after Brig. General Charles McGee, a former Tuskegee Airman who died in mid-January. Staff/Bethesda Beat.
ANNAPOLIS COUPLE IN COURT ON SPYING CHARGES: A former US Navy nuclear engineer accused of trying to sell secrets to a foreign government is due in court on Monday for a plea hearing. A West Virginia magistrate judge in a Friday order said Jonathan Toebbe of Annapolis would enter a plea at 3 p.m. Monday. Toebbe and his wife, Diana Toebbe, face espionage charges for selling nuclear submarine secrets to an undisclosed foreign power. Taylor DeVille/The Baltimore Sun.
WINDMILL PRODUCTION AT SPARROWS POINT: Production at a planned wind power manufacturing plant at Sparrows Point would begin in about two years according to a schedule set Thursday by US Wind officials. Pre-construction work will begin this year at Tradepoint Atlantic in Baltimore County, executives at the wind farm developer said at a virtual business event hosted by the Greater Baltimore Committee. Lorraine Mirabella/The Baltimore Sun.
MARYLANDERS FOR AFFORDABLE RX: Marylanders for Affordable Rx educates policymakers and the public about the real reasons for high prescription drug costs and exposes special interests seeking to inflate their bottom line at the expense of hardworking Marylanders. Across the country and in our state, we see special interests, like Big Pharma and the independent pharmacy lobby, pushing programs that would make it harder for patient advocates like pharmacy benefit managers to negotiate prescription drug costs. lower. Learn more and help us prevent special interests from increasing our Rx costs. (Paid advertising)