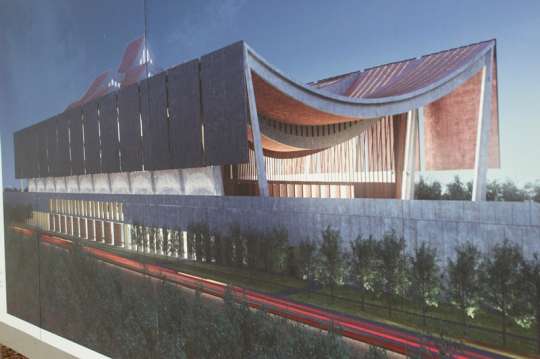 Minority in Parliament tables motion to inquire into National Cathedral project
The minority in Parliament tabled a motion for an investigation into the public funds invested in the construction of the national cathedral.
Samuel Okudzeto Ablakwa, a senior member of Parliament's Foreign Affairs Committee, revealed this to Joy News on Thursday in an interview on In the front.
The MP for North Tongu believes the investigation is necessary because of what he describes as the "avalanche of rot and illegalities" perpetrated by the government in the construction of the national cathedral.
"I can confirm tonight that we are filing a request. Remember that earlier; we had tabled three urgent questions…we decided that we would have a full-scale parliamentary inquiry and so we tabled this motion pending the verdict of the honorable speaker," he said.
According to him, President Akufo-Addo must come out publicly and apologize to Ghanaians, the clergy and the Christian community for the various controversies surrounding the project if he indeed considers it a "priority of priorities".
"He [President Akufo-Addo] must now come out of his hiding place and address the nation, admit all the mistakes, apologize to the nation and to all those eminent priests and the Christian community that he has misled.
"And he should start taking action, go back and be truthful and sincere and state the real goals that he wants the people of Ghana to pay for this project," he added.
Meanwhile, the outgoing president of Full Gospel Church International has called on the government to set up an independent inter-council committee of clergymen to investigate controversies surrounding the national cathedral project.
This, Bishop Samuel Mensah said, is necessary to enable transparency and accountability regarding the project, especially when the government has called for donations of funds to finance the project.
"It's not very clear… it would probably be helpful if we formed an inter-council committee to investigate this at least for the sake of integrity and to keep the faith with the people so that we can carry out an independent investigation into this whole story.
"Find out how much money has been released, where the money has gone, what the status is so that at least we can get this information out to the public and let the public be educated and well informed about this… I think we all deserve to know what's going on," he told Raymond Acquah on In the front Thursday.
Currently, work on the construction site of the National Cathedral is at a standstill.
The executive director of the National Cathedral of Ghana, Dr Paul Opoku-Mensah, explained that the status quo can be attributed to "fundraising whims".
In a press release published Friday, June 17, he assured that the site would soon restart.
JoyNews checks at the project site on Monday June 13 showed that work on the project had been stalled for three months.