List of Open Artist Commissions for WonderCon 2022 [UPDATE March 26]
It's been a long time coming, but it's finally happening; WonderCon Anaheim is back and in person from April 1 through Sunday, April 3, 2022. If you can't wait to see your favorite WornderCon artists again, we promise you're not alone. We are excited to announce the opening of WonderCon Artist Commissions, aAnd we can pick them up in person this year. Can you say I'm excited about this, because I'm really excited about this.
This list contains both artists who still accept WonderCon commissions for mail-out as well as those who offer in-person pickup. Don't see your favorite artist? Check back soon, as we'll continue to update this list as we hear from other artists.
[NEW] Artist name: Michael Magtanong
Committee status: open
Cost: Sketch card: a figure, head: $30+ / 5″ x 7″ Traditional: Head and bust of a character: $60+ / 9″ x 12″ Traditional: Bust of a character and full body $125+
Pickup/Delivery: Pick up at table #F-10 in Artists' Alley. Delivery also available (contact the artist for pricing).
Contact information: E-mail / Twitter / Instagram / Facebook / Website
[UPDATED] Artist name: Anthony Fowler, Jr.
Committee status: open (limited places available)
Cost: 9″ x 12″: Character Bust: $30 / Single digit: $40 / Two digits: $50
11″ x 17″: Uniqueness: $60
All Sizes: Each Additional Figure: +$10 / Add ink wash: +$10
Pickup/Delivery: Pick up at table #F-04 in Artists' Alley
Contact information: Twitter / Instagram / Facebook / Website
Artist name: Deryl Skelton / SkeltonArtist
Committee status: open
Cost: 9″ x 12″ Watercolor: Full Color: $150 per figure / Black White: $125 per figure / Head shot: $65 (Color) $45 (black White)
12″ x 18″ Watercolor: Full Color: $225 per figure / Black White: $185 per figure / Head shot: $115 (Color) $85 (black White)
Pickup/Delivery: Pick up at table #B-54 in Artists' Alley.
Contact information: Twitter / Instagram / Facebook / Website
Artist name: Justin Greenwood
Committee status: open (limited places available)
Cost: All orders are 9″ x 12″ ink drawings with ink wash. Single character, complete figure: $175 / Head and shoulders (bust): $125 / Supplement per additional character / Add watercolor: +$100
Pickup/Delivery: Pickup at WonderCon, US Mail option also available.
Contact information: Twitter / Instagram / Facebook / Website
Artist name: Bob! Draw Stuff / Robert McKeone
Committee status: open
Cost: Contact the artist.
Pickup/Delivery: Pickup at Artists' Alley table #B-12, US Mail option also available.
Contact information: Twitter / Instagram / Facebook / Website


Artist name: Tom Hodges
Committee status: Open (5 places available)
Cost: Contact the artist.
Pickup/Delivery: Pick up the next day at Table #C-16 in Artists' Alley
Contact information: Email/Instagram/Facebook/Store


Artist name: As Continuado
Commission status: walk-in (Artists' Alley Table #A-17)
Cost: Contact the artist.
Pickup/Delivery: Pick up at table #A-17 in Artists' Alley
Contact information: Email / Instagram / Facebook / Website
Artist name: Bobby Race
Committee status: open (limited places available)
Cost: Contact the artist.
Pickup/Delivery: Contact the artist.
Contact information: Email / Instagram / Facebook / Twitch / Website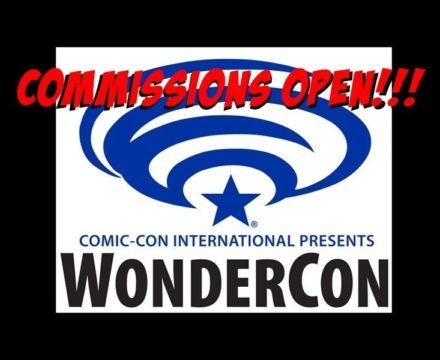 [NEW] Artist name: EM Gist
Committee status: FIRM
Cost: Inked head sketch: $175 / Inked bust sketch: $225 / Complete sketch of the inked figure: $300. Submit your character request after ordering your commission.
Pickup/Delivery: Pick up at the Artists' Alley #E-09 table at WonderCon. US Mail option also available.
Contact information: Instagram / Twitter / Facebook / Website
Artist name: Anthony Helmer
Committee status: open
Cost: Contact the artist.
Pickup/Delivery: Pickup at Artists' Alley #C-17 table at WonderCon
Contact information: Email / Instagram / Twitter / Facebook / Website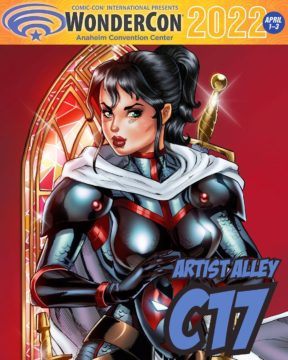 Artist name: Christie Shinn (Hora Tora Studios)
Committee status: open
Cost: 8″ x 10″ Black and white: $40 / 8″ x 10″ Color: $45 / Other sizes: Contact the artist for details.
Prices do not include shipping and handling for physical prints. Digital options available.
Pickup/Delivery: Pickup at Artists' Alley table #E-54 at WonderCon
Contact information: Email / Instagram / Twitter / Shop / Website / Patreon / Venmo
Artist name: Nick Kremenek (Dreamforger Studios)
Committee status: Open
Cost: Custom portrait 5″ x 7″. Black and white: $80 / Color: $140. Decorative frame: +$10 / Custom background: +$15 / Original pencil drawing (in addition to the original portrait): +$125.
Pickup/Delivery: Pickup at Nick's Table #C-36 in Artists' Alley at WonderCon
Contact information: Email / Facebook / Instagram / Twitter / Shop / Patreon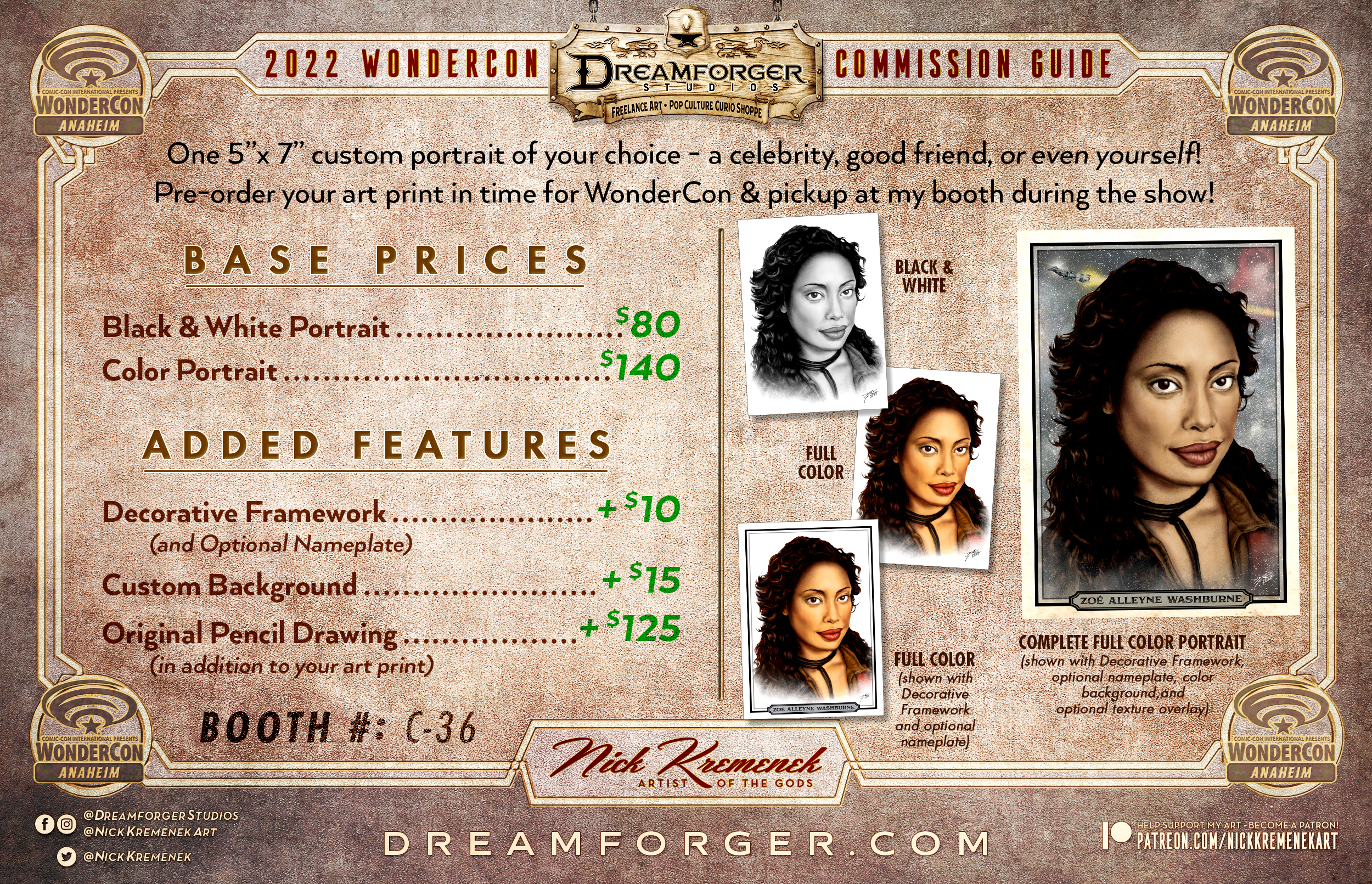 Artist name: Jessica Chrysler
Committee status: Open
Cost: Digital B&W portrait: $45 / Digital color portrait: $65 / B&W Watercolor 8″ x 10": $80 / Original watercolor with digital color print: $150 / Up to two full digits; +$15 for additional numbers. Contact the artist for other sizes and mediums.
Pickup/Delivery: Digital commissions delivered by email; originals and prints, please contact the artist for preferred shipping method.
Contact information: E-mail / Twitter / Instagram / Facebook / Website


Artist name: Val Hochberg
Committee status: Open
Cost: Traditional Art Commission – A Chibi Character (5″ x 7″): $50
Traditional Art Commission – Two Chibi Figures (5″ x 7″): $60
Order Information: Order on the Val website. To select DIGITAL ART COMMISSION at the time of departure. Available for pickup at WonderCon 2022 only at Booth #C-60
Contact information: Website / Twitter / Instagram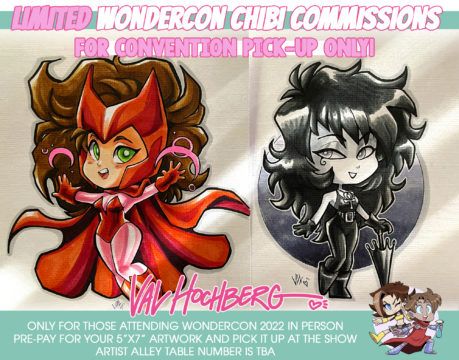 Artist name: Patrick Ballesteros
Committee status: Open from February 28, 2022 (5 slots available)
Cost: Commissions full body 1 character or full body 2-3 characters max (characters established only in Patrick's child style) / Contact the artist
Pickup/Delivery: Pickup at Wonder-Con booth #A-07
Contact information: E-mail / Twitter / instagram / Facebook / Website / Shop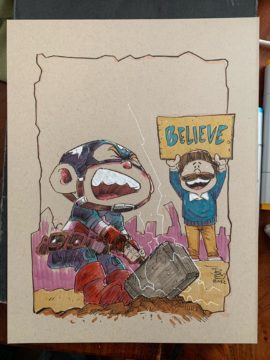 [UPDATED] Artist name: Henry Liao
Committee status: Open (limited spaces available)
Cost: Contact the artist
Pickup/Delivery: Artist will ship via USPS or arrange pickup at Wonder-Con Artists' Alley table #B-22.
Contact information: E-mail / Twitter / instagram / Website