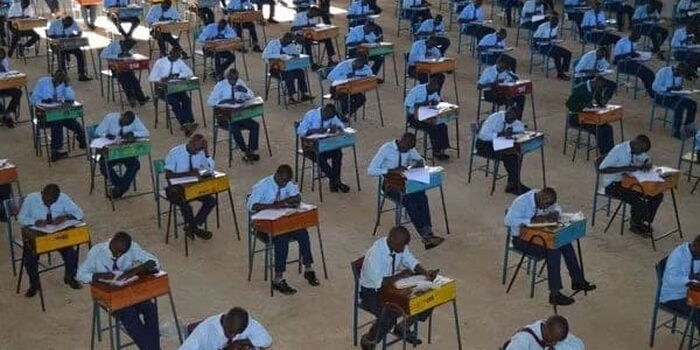 KCSE 2021: Most Students Score D- (Full List of Scores)
Cabinet Secretary for Education, George Magoha, when releasing the results of the Kenya Certificate of Secondary Education (KCSE) 2021 examination, noted that there was a general improvement in overall performance.
While a number of little-known schools produced impressive grades, the majority of learners fell below the college-entrance grade of C+.
The majority of applicants scored below the college cut-off points, with D- (minus) being the most dominant grade. A total of 187,264 applicants earned a D-, making it the grade with the most students in the 2021 class.
Only 1,138 candidates obtained an A grade in the 2021 KCSE exam, including 349 women and 789 men. This represented 0.14% of the total number of applicants and represents an increase from 0.12% in 2020.
Cabinet Secretary for Education George Magoha during the distribution of KCPE exams
Courtesy
The number of applicants with the minimum university grade C+ and above has increased from 143,140 in 2020 to 145,145. This adds 2,005 more to the University's admission list in 2021.
The 2021 KCSE Results Report recommended investing more in TVET institutions, with 39.27% ​​of applicants willing to enroll in various degree and certificate courses.
Additionally, Education CS George Magoha urged Kenyans to demystify "university admission as a culture of success".
Kenyans were expecting a significant improvement in the KCSE 2021, but there has been a decline in analysis of subject improvement.
"In the 2021 KCSE exam, 11 subjects recorded significant performance improvement compared to 19 subjects who recorded significant performance improvement in 2020," Magoha said.
Magoha noted that the government has channeled more resources to sub-county schools, calling them "the future of education in this country".
"People have this idea that only national school students excel, which is true given the high levels of discipline, but it can be adopted by sub-county schools and perform well," Magoha said.
He recognized the top performing students of sub-county schools by name for their achievement despite the status of their schools.
Below is the breakdown of the KCSE 2021 overall scores: