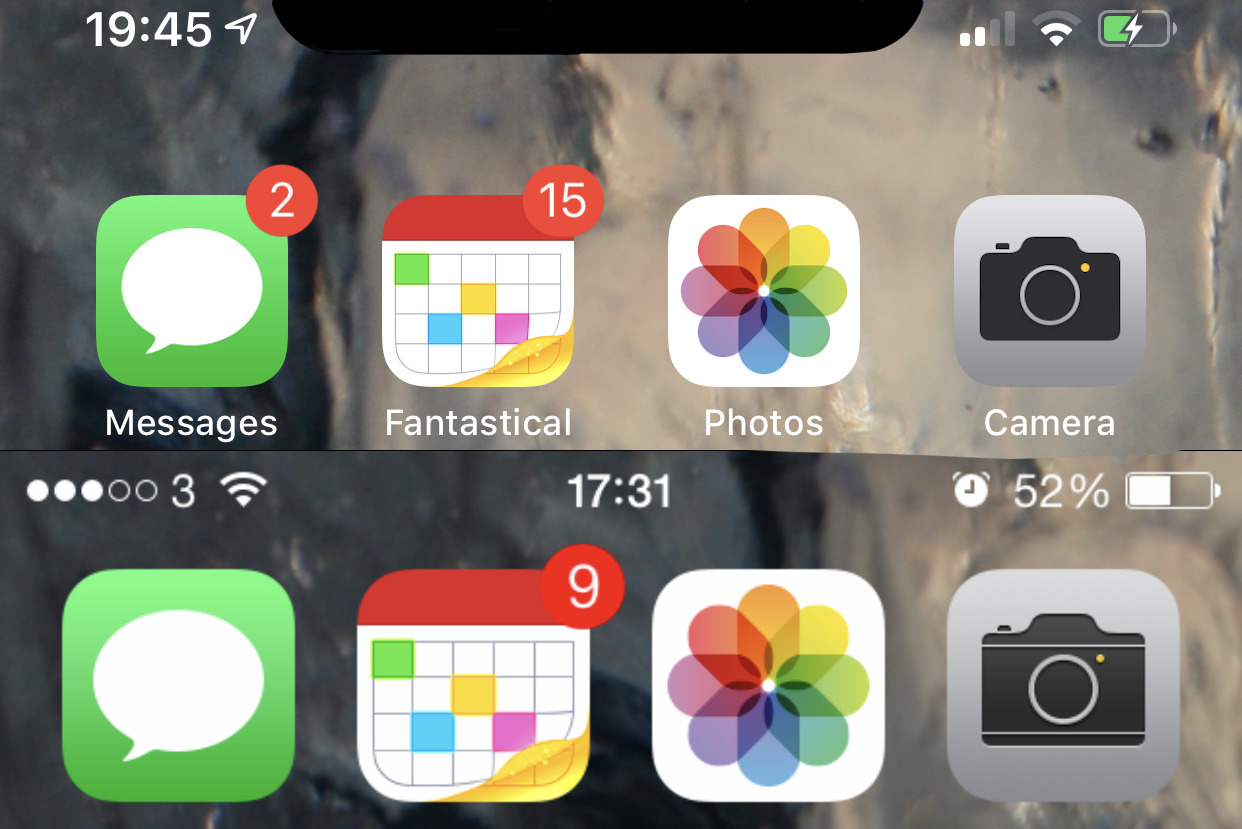 How to find the iPhone status bar icons that Apple moved because of the notch
AppleInsider is supported by its audience and can earn commission as an Amazon Associate and Affiliate Partner on qualifying purchases. These affiliate partnerships do not influence our editorial content.

The notch is fine but we lost where we were looking for information on the screen because of it. Most of these can be found in new places if you know where to look, but it's a lot less convenient than before.
Ever since the iPhone X introduced the notch, all the fuss has been about its appearance. Some people don't even realize it, others keep coming back to it, other companies have copied it. Yet while this is the most visible feature to tell the world that you have an iPhone X series device, it has also lost a lot of information.
Today, it is difficult to count the icons because they vary depending on the operator, the territory and whether you are on WiFi or not. However, some icons we were relying on are no longer visible.
And when you first realize they're gone, you go through an age to Settings trying in vain to recover them.
Typical status bar information on an iPhone XS Max
It's a status bar of the iPhone XS Max, the biggest iPhone made by Apple. Anytime you take a screenshot of an X-series iPhone, you don't see the notch because Apple lets the background image fill that gap.
Even so, you can see the wide space between the icons: they are now clearly arranged to the right and left with nothing in the middle.
So take this picture and tell us: is this iPhone playing music? Does he play this music on headphones? What is the battery percentage? And is it on VPN or not?
This is all the information you are used to seeing instantly. And that's why you never pressed play and found out that your AirPods weren't connected. That's why you never have to remember if you had VPN turned on before doing online banking.
And while it's probably bad for us to keep looking at the exact percentage of battery power, we found it useful. It's certainly a lot clearer than Apple's line of icons that just shows a battery that regularly drains with no idea how fast it is dropping.
Previews
You cannot permanently retrieve this information from the status bar, but some of it appears ephemeral.

You see a headset or a VPN that turns on
When you connect to the VPN for the first time, the status icon appears at the top right of the status bar before disappearing. Likewise, if you connect AirPods, the headset icon appears for the same brief moment and with the same animated slide.
If you look at the screen at the right time, you will see these icons. You just won't be able to tell later if the headphones are still on, if the VPN is still connected.
And the options we previously had for choosing a percentage as well as a battery icon are gone.
There is a solution
Swipe down from the right side of the status bar to invoke Control Center. Above the usual Control Center icons for WiFi, Bluetooth, etc., there is now a new status bar.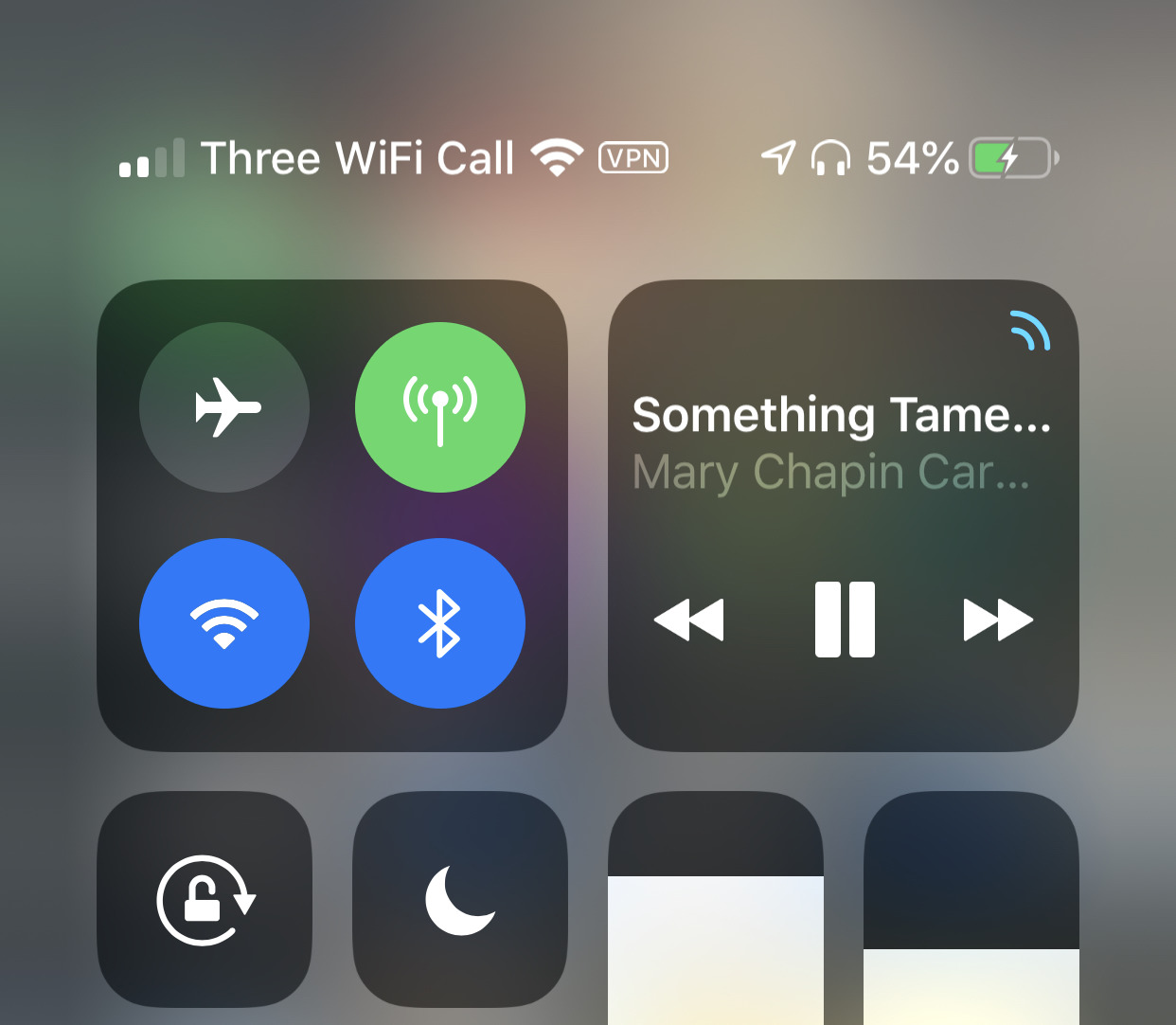 Status bar information has been moved to Control Center
Here is. VPN, headset connectivity and battery percentage indicator, as we've always had – and as you haven't noticed since the upgrade.
This is not a complaint about the notch. It's not even really a complaint about how that means we can't have as many status icons as before. However, it is a complaint that we have no choice in the matter.
Take another look at this first example of a status bar.

Typical status bar information on an iPhone XS Max
On the left, this status bar tells us the time, the fact that some apps can use location services, but none currently do. On the right is the carrier signal strength, WiFi strength, and a battery icon that has changed to show the phone is charging.
We would like to change this battery icon to show a percentage instead. We'd be better off not knowing every moment our signal strength is, we could check that before making a call. Or we could just make the call and figure out for ourselves if someone is answering.
Likewise, location services are great when something is using it, but we don't need the information unless we are looking to determine why our battery is dropping so much.
Whereas knowing if the VPN is on means knowing that we can do online banking. Knowing that AirPods are connected means knowing that our iPhones aren't going to play loud music for everyone around us.
So we would like at least one option to choose what we see in the status bar and what we don't see.