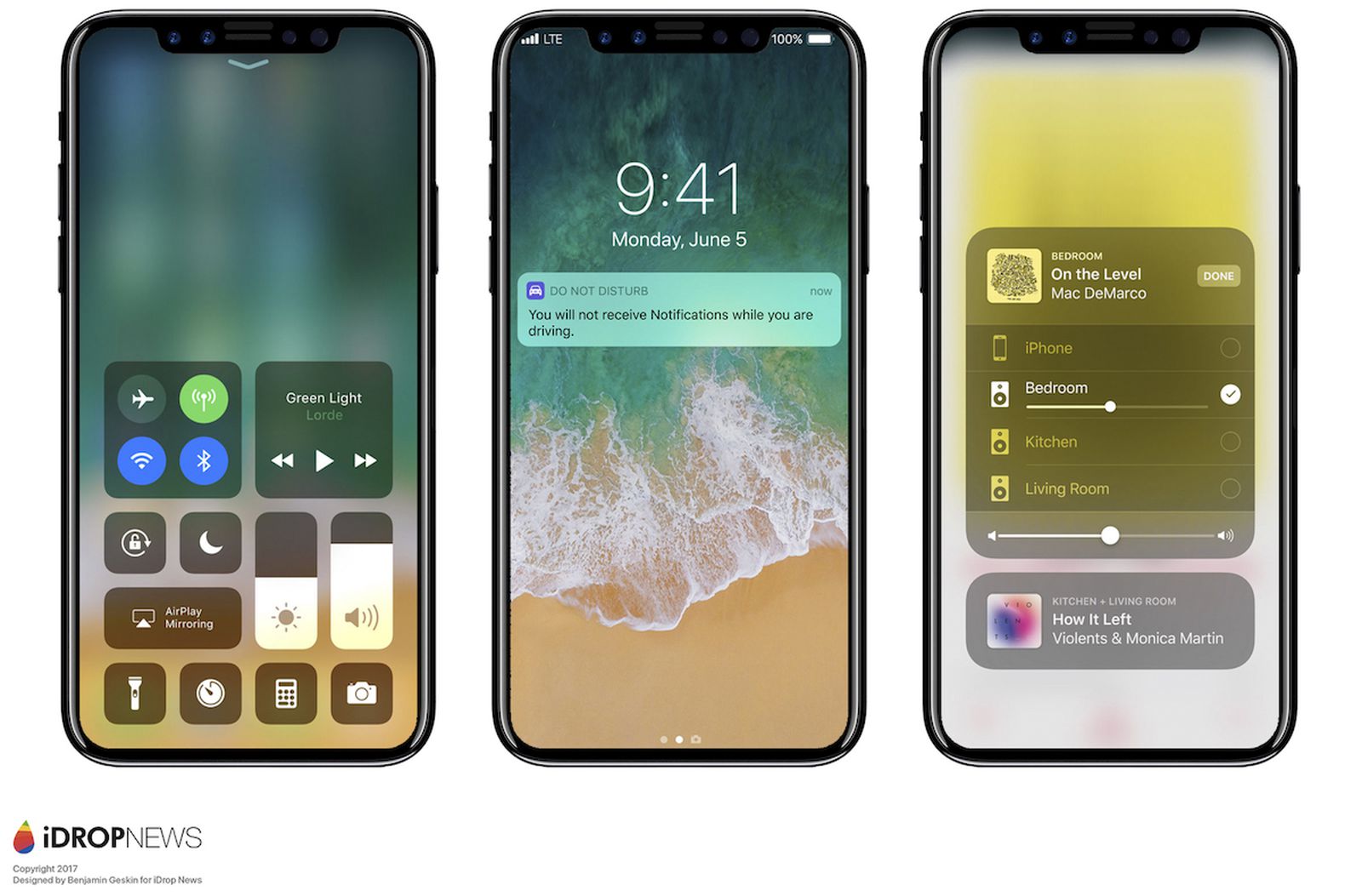 HomePod Firmware suggests iPhone 8's split status bar, Tap to Wake, and No Touch ID below the display
The still-unreleased HomePod firmware has provided a wealth of information about the speaker itself and the upcoming iPhone 8, thanks to developers like Steven Troughton-Smith who spent time digging into the code.
Troughton-Smith tonight shared some new iPhone 8 features and potential predictions, again from HomePod firmware, giving us even more information about the drastically redesigned iPhone Apple plans to release in 2017.

First of all, Troughton-Smith saw no indication that there are any features related to the Touch ID subscreen feature in the iPhone 8, and he doesn't think such a feature will be included in the. device.
For what it's worth … I haven't seen anything that suggests an ultrasonic Touch ID under the display here. Looks like not this year. Quash that one – Steve TS (@stroughtonsmith) August 1, 2017
Initial iPhone 8 rumors suggested that Apple was working on putting Touch ID under the display, as the iPhone 8 features an edge-to-edge design without a Home button, but that may not have worked due to the rumors of production difficulties. Current information suggests that Apple may replace Touch ID with a new facial recognition system instead, and there are indeed several references to infrared face detection in firmware.
The iPhone 8 is expected to have an edge-to-edge design with thin borders on the top and sides, but there will be a blocked area for the front camera and new sensors that will allow facial recognition. According to Troughton-Smith and developer Jeffrey Grossman, there are references to new "split" options for the visual provider system for UISatusBar, suggesting status bar information such as connection strength, battery, Bluetooth and time can be displayed on either side of the sensor / camera area, for a simplified status bar at the top of the device.
Troughton-Smith says the new status bar "looks a lot more complex and powerful in design," and might even be interactive in some way.
Along with details about the split status bar and the lack of Touch ID references, Troughton-Smith also found information suggesting that the iPhone 8 could potentially support a "tap to wake" feature. Tap to Wake is a feature built into some Windows-based Lumia smartphones, enabling the screen to be activated with a double tap, something Apple could use as an alternative to the Home button to wake up an iPhone.
As for the Home button, it seems to be called "Home Indicator" in the firmware, and according to Troughton-Smith, Apple has "no qualms about hiding it in certain contexts." Rumors have suggested that while there is no physical home button, there could be an on-screen function area that houses a virtual home button and other controls. From what Troughton-Smith says, this virtual area can be hidden from things like fullscreen apps and videos.
The virtual home button just seems to be called "home flag" – it looks like the operating system doesn't mind hiding it in certain contexts – Steve TS (@stroughtonsmith) August 1, 2017
As a final little detail, Troughton-Smith says ARKit and Photos are getting new features that go with the front camera along with depth-sensing features, such as "ARFaceAnchor".
There are details about the iPhone 8 in the HomePod firmware because HomePod will be running a version of iOS. The firmware released by Apple corresponds to iOS 11.0.2, a future update that will be introduced sometime after the launch of iOS 11 in the fall with the new iPhones.