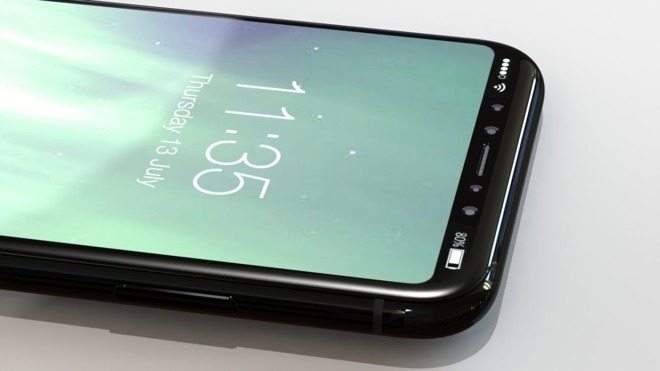 HomePod firmware points to iPhone 8 split status bar, press to wake, built-in Touch ID in question

AppleInsider is supported by its audience and is eligible to earn an Amazon Associate and Affiliate Partner commission on qualifying purchases. These affiliate partnerships do not influence our editorial content.

Digging deeper into the HomePod firmware that was released over the weekend, developer Steven Troughton-Smith offers additional details on Apple's next-gen iPhone, including what could be confirmation of a user interface. split status bar and a new "tap to wake" feature.
Troughton-Smith in a tweet On Monday notes that the code points he uncovered identify a new visual provider system for the UIStatusBar, including a "split" option that would presumably split status information such as cellular connectivity, battery capacity, the power of Wi-Fi and more in two sections.
The information matches previous leaks that suggest the "iPhone 8" will sport a large center cutout at the top of the screen to make room for an earpiece, a front-facing FaceTime camera, and specialized sensors that allow 3D detection. An image purporting to show a silhouette of the next-gen device, taken from the same HomePod firmware, appears to confirm a split status bar design.
Troughton-Smith adds that the status bar "seems much more complex and powerful in design, perhaps even interactive," but fails to elaborate on potential functionality.
In a separate tweet, the developer notes a separate lack of new assets this would betray the inclusion of an integrated Touch ID module.
"For what it's worth, I haven't seen anything suggest an under-screen Touch ID ultrasound here. Looks like it's not this year. Cancel that one," Troughton-Smith said.
An in-display fingerprint reader is one of the most – and frequently cited – "iPhone 8" rumors, but exactly how Apple intends to implement the technology remains unclear. In addition to ultrasonic technology, the company could eventually apply an advanced optical-under-glass sensing solution similar to current Touch ID iterations.
Yet, as Troughton-Smith points out, firmware would require new UI assets to direct user interactions. The developer has yet to find evidence of such code, casting doubt on an in-vehicle solution that will arrive this fall.
Whether the device will integrate Touch ID under glass is up for debate, but a full-screen display without a home button seems to be confirmed. Instead of a physical part, the code suggests that Apple will likely use a virtual home button called a "home indicator" that can be hidden depending on the situation. Related to the home button graphics, a new Troughton-Smith "dock" user interface was discovered in the software keyboard code. He thinks the new UI might signal a move of some buttons like the international keyboard and the emoji (globe icon) and voice input (microphone icon) buttons to the new home button area.
Elsewhere in the HomePod code, there are hints of ARKit and Photos integration along with the rumored 3D-sensing FaceTime camera. Developer Guilherme Rambo found strings related to detecting facial expressions and traits like smiles, frowns, puckers, and dimples.
A reference to "press to wake" was also discovered, the function of which could be similar to a feature introduced with Microsoft Lumia devices running Windows Phone. These smartphones allowed users to wake up their device by quickly double tapping the screen.
Apple is expected to launch "iPhone 8" in September alongside incremental upgrades to the iPhone 7 series. The new flagship is rumored to be packed with new features and functionality, including the aforementioned 3D-sensing FaceTime camera, all-over OLED display , wireless charging and AR capabilities.